ORGANIC ACAI BERRY POWDER-non gmo-20+ servings
Description
Organic Acai Berry Powder
While more research is needed, there are signs that acai berries may protect against or even fight cancer.
The anthocyanins in the fruit have already been shown to reduce the risk of cancer. And in animal studies, acai pulp reduced both colon and bladder cancer.
As far as humans are concerned, a 2006 study saw some promising results when researchers dripped concentrated acai juice on leukemia cells and 86% of the cancer cells started to self-destruct.
ACAI BERRIES ARE GOOD FOR YOUR BRAIN
Want to protect your brain from cognitive decline? Acai berries may help!
In one 2013 study published in "Neuroscience Letters," acai berry extract was found to be protective against the build-up of beta-amyloid, which contribute to the development of Alzheimer's disease.
The brain also stays healthy by performing a process known as autophagy, and acai berries have been shown to encourage or enhance this internal housekeeping act. Not only does this allow the formation of new nerves, it also enhances the communication between brain cells.
ACAI BERRIES ARE GOOD FOR YOUR HEART
Acai is a heart healthy food. One study showed this Brazilian berry, specifically in the form of acai smoothies, can improve cholesterol levels by lowering LDL cholesterol, otherwise known as the bad cholesterol.
As this article has mentioned multiple times, the antioxidants in acai berries also play a role in protecting the heart.
HOW TO USE ACAI BERRIES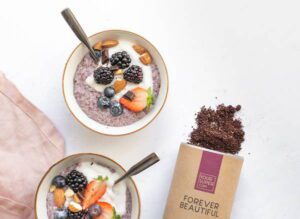 As acai berries continue to rise in popularity at health and smoothie bars, you'll be hard pressed to find them in the produce aisle. You're more likely to find them in frozen or powdered form, which isn't a bad thing since to make acai berries edible you have to soak them and mash them into a paste.
Nutritionally speaking, it's not a bad thing either. Because fresh acai berries lose their nutritional value in transit, it's actually better to consume dried (powdered) or frozen acai berries.
* These statements have not been evaluated by the Food and Drug Administration. This product is not intended to diagnose, treat, cure, or prevent any disease.